Month:
March 2019
OM SHIVAYA SHIVABALAYOGENDRAYA PARABRAHMANAYA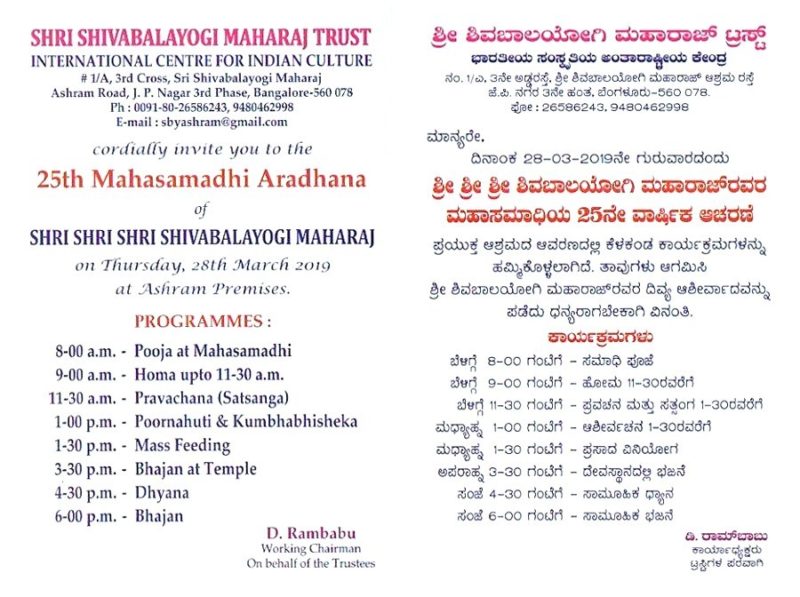 The Trustees and Devotees of Bengaluru Ashram cordially will be commemorating the 25th Anniversary of Shri Guru Maharaj Shivabalayogi Mahasamadhi. The Bengaluru Ashram will be celebrating with programs of Special Pooja to Shri Guru Maharaj, Homa, Poornahuthi, Bhajans, Meditation and Mass Feeding.
Bengaluru Ashram Address
Shri Shivabalayogi Maharaj Trust,
1/A, 3rd Cross, 6th Main,
Shri Shivabalayogi Maharaj Road,
J. P. Nagar, 3rd Phase,
Bangalore – 560 078 India.
Phone: +91-80-2658 6243/ 9480462998
Programme
Pooja at Mahasamadhi 8.00am.
Homa 9.00am.
Pravachana (Satsanga) 11.30am.
Poornahuthi & Kumbhabhisheka 1.00pm.
Mass Feeding 1.30pm.
Bhajan at Temple 3.30pm.
Dhyana 4.30pm.
Bhajan 6.00pm.
All donations are welcome.
OM SHIVAYA SHIVABALAYOGENDRAYA PARABRAHMANAYA
Trustees and devotees invited Shri Babaji for the special Pooja on the occasion of MahaShivarathri at the JP Nagar Ashram. Babaji offered prayers and pushparchana for Lord Shiva and Shri Swamiji which was witnessed by hundreds of devotees.