Shri Shivabalayogi Maharaj Trust presentation of the truth against false allegations by Nripendra Singh and co. regarding sealing of Dehradun Ashram guesthouse
OM SHIVAYA SHIVABALAYOGENDRAYA PARABRAHMANAYA
Ashram Officials seek protection from occupiers
Dehradun 18 Aug.
The main wall of the Shiva Bala Yogi Maharaj Trust in Kishanpur was demolished by the Nagar Nigam anti-encroachment team. Following this, following a complaint made by the Secretary of the Trust, the team sealed the property and land belonging to the Nigam that had been illegally occupied.
Office bearers of the Shiva Balayogi Trust, which included Manvendra, Ranvijai Singh and others, held a press conference at the Press Club here, today, in this regard. It was pointed out that the sealing had been done on the basis of a report prepared by the City Magistrate, Dehradun, and released on 12 April 2013. According to this 60 metres of land under have been occupied by one Nripendra Singh and others along the Ashram of the Trust. This land belongs to Nagar Nigam.
The late Lt General Hanut Singh had built upon this land. After his death, the construction was declared illegal. In response to a complaint by the Trust to the District Administration, the construction had been sealed by the anti-encroachment team. It was alleged that, angered by this Nripendra Singh and some anti-social elements were applying unethical pressure on the Ashram Trust.
It was revealed that there was no 'Samadhi' of Lt Gen Singh at the site. After his death, the 17 Poona Horse regiment had performed his last rites at the Kankhal Ghat in Haridwar. Nripendra Singh was only playing politics in the general's name. The Trust Members demanded that protection be provided to them from the elements that could use money and muscle power to trouble the Ashram.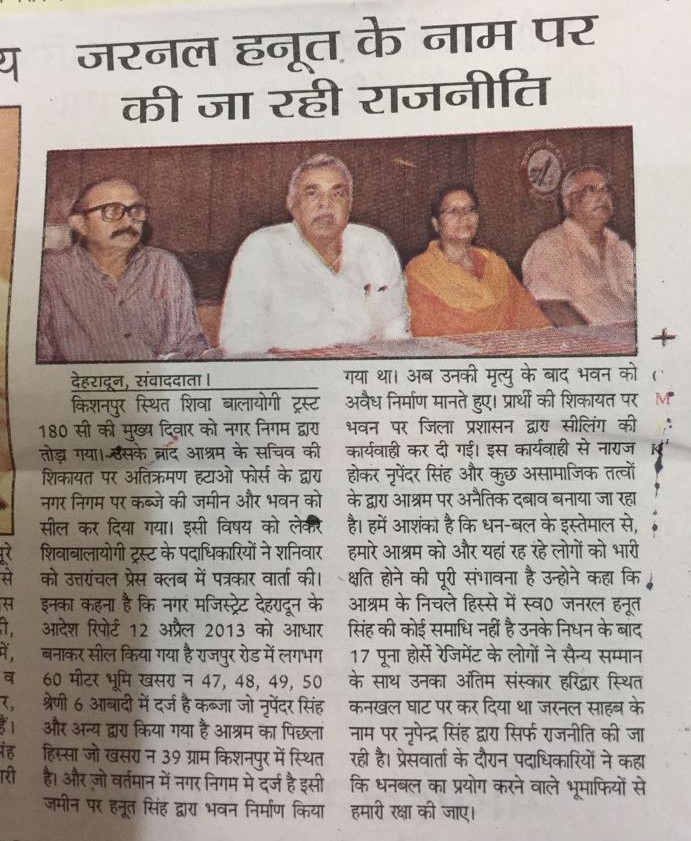 Posted on: August 19, 2018SBY Trust